Representatives from the realms of Sales, Support, Product, Design, and Operations met to discuss the great enemy of LexBlog. A backlog of blogs, websites, microsites, and portals that threaten our standing with numerous clients. This is one project to rule over all other projects and must been eliminated.
Really, we have a list of blogs that for one reason or another stalled out. Either the client lost interest, communications dropped, or someone somewhere hesitated about a decision. This post is about the beginning of the end of stalled projects at LexBlog.
The project itself is called OpenProjects (as in not-closed) and I've been working on it for several months. There's been some great strides as we've closed 60+ out of the 200 originally on the list. However, enough was enough and our new COO Greg called a meeting of the minds to close out the remaining projects by December 21st. This I've suitably dubbed "The Fellowship of the Project".
Identify Risks
Coincidently, that same week I listened to an interview with Carl Pritchard who discussed his career as a Risk Management specialist. His ideas and definitions really helped me come into the conversation with an open mind.
A risk is a future phenomenon that impacts the success of a project…issues are risks realized. -Carl Pritchard
While I thought I was prepared to handle all of these projects, I didn't think about the risks involved. Sure, I considered the consequences (lose clients, lose money, lose my job), but I had not considered the risks to others outside of myself. However, even before that meeting took place I was working with others to get these projects done. Really though, I had not thought about the risks to those teams.
Risk management is a team sport. I have my risk. My team has theirs. -Carl Pritchard
Coming together, I started off with the goal. Complete this list by 12/21/20. Almost immediately I received much needed/anticipated resistance. Each person could identify their own risks, but there were still a ton of questions to be answered.
"What do you mean by complete?"
"What if the client doesn't want to move forward that fast?"
"Complete as in launched, closed, cancelled, what?"
"What is the consequence of not meeting that deadline?"
"What happens when a client cancels their blog?"
Each person had great and understandable questions. We had to define the project and the  before rolling up are sleeves. I mean…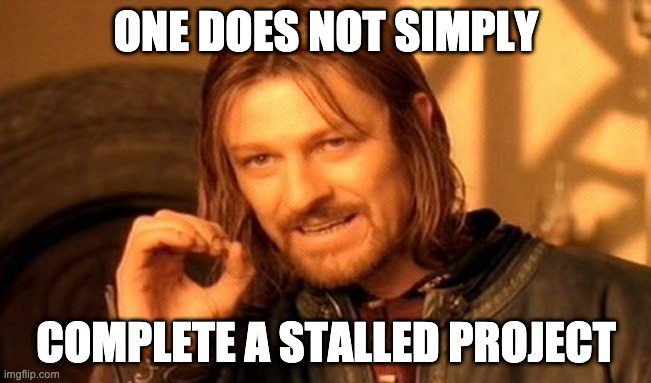 Threats & Opportunity
At some point, I noticed a shift. Instead of thinking "this is an impossible list with too many questions", the group started to see what I see, an opportunity. Instead of playing their respective parts each person became an opportunity manager.
Opportunity managers ask, "What good will happen?" -Carl Pritchard
These projects have been weighing each of us down. I could sense that each person felt guilty for not moving the dial forward or felt a sense of failed responsibility. I mean, even if ownership was never specifically assigned, we had been failing as a group and reminded of such every month.
Identify then assign accountability. Though, there is shared ownership. -Carl Pritchard
Each project was assigned to a department then each department assigned someone to be accountable. The opportunities have been rolling in ever since. One person is leading the charge on a major migration and has already identified new ways to improve the process. Another person is learning how to launch our simplest blogs (Twentys) through some interesting upgrades. One person is considering possibilities of client management and how we might improve the sales funnel.
All of us, I think, are excited to have less to worry about. We each want to spend our time improving, not reacting. We each want to think of managing future projects and less about keeping old ones alive long enough to pass it off to someone else.
Conclusion and Next Steps
"If you have 3 firefighters constantly putting out fires, 1 of them is an arsonist." -Carl Pritchard
These words hit me the hardest. I wondered if I had somehow been "the arsonist" by bringing forth this incredibly tight timeline. I've learned that the arsonist was way before I started at LexBlog. Someone, at some time, was adamant about a project launch process. They set those wheels into motion and this year I was asked to ride the train while changing the tracks.
The way we launched blogs and the way I was asked to fix the process were both wrong. The way we launched blogs was just a massive workaround over the loss of account managers.
"Workarounds are the last resort of the desperate…Prevention should be more prized than a savior" -Carl Pritchard
I felt some need to be "the savior" that came in and perfected the system. However, I wasn't allowed to (even when I was "allowed to") implement a solution and I felt betrayed. I see now that I was just setting myself and others up for issues to risks I never realized. After we get these projects out of the way we'll work on building a new system together. Hopefully, each department can identify their risks and shared risks effectively.
In any case, we'll have a shared sense of ownership even if only one person is accountable to the process.
I really hoped you found something to add to your everyday rhetoric repertoire. Know that you can't PM in a silo and that you need a team every step of the way especially when it comes to identifying risks. Thank you for reading and I hope you learn more about identifying risks like myself.